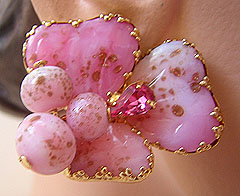 Hobe Pink Poured Glass Floral Necklace, Clamper Bracelet & Earrings Parure
Stunning pink pate de verre style glass parure includes choker necklace, clip earrings and hinged clamper bracelet. I acquired the pieces separately and interestingly they have different maker's marks, but they are all the design of Hobe (and the bracelet is marked Hobe). The necklace is comprised of floral clusters of pink glass petals, openbacked frames with decorative prongs. Accented with pink pear-cut stones and speckled pink glass beads. Goldtone metal setting; 15 1/2" length total length. Applied cartouche on the back reads "Marner." Matching 1 1/4" clip earrings are marked with both "Marner" and "Jewels by Julio" cartouches. Bracelet is not an exact match, with gilt floral cups, bright pink and aurora borealis rhinestones, but close enough that the pieces can be worn together. 1 1/4" total width at the front, 2 1/4" inside width. Pieces are all in like-new condition.
- ON HOLD - Click here to be notified if item is returned to inventory.